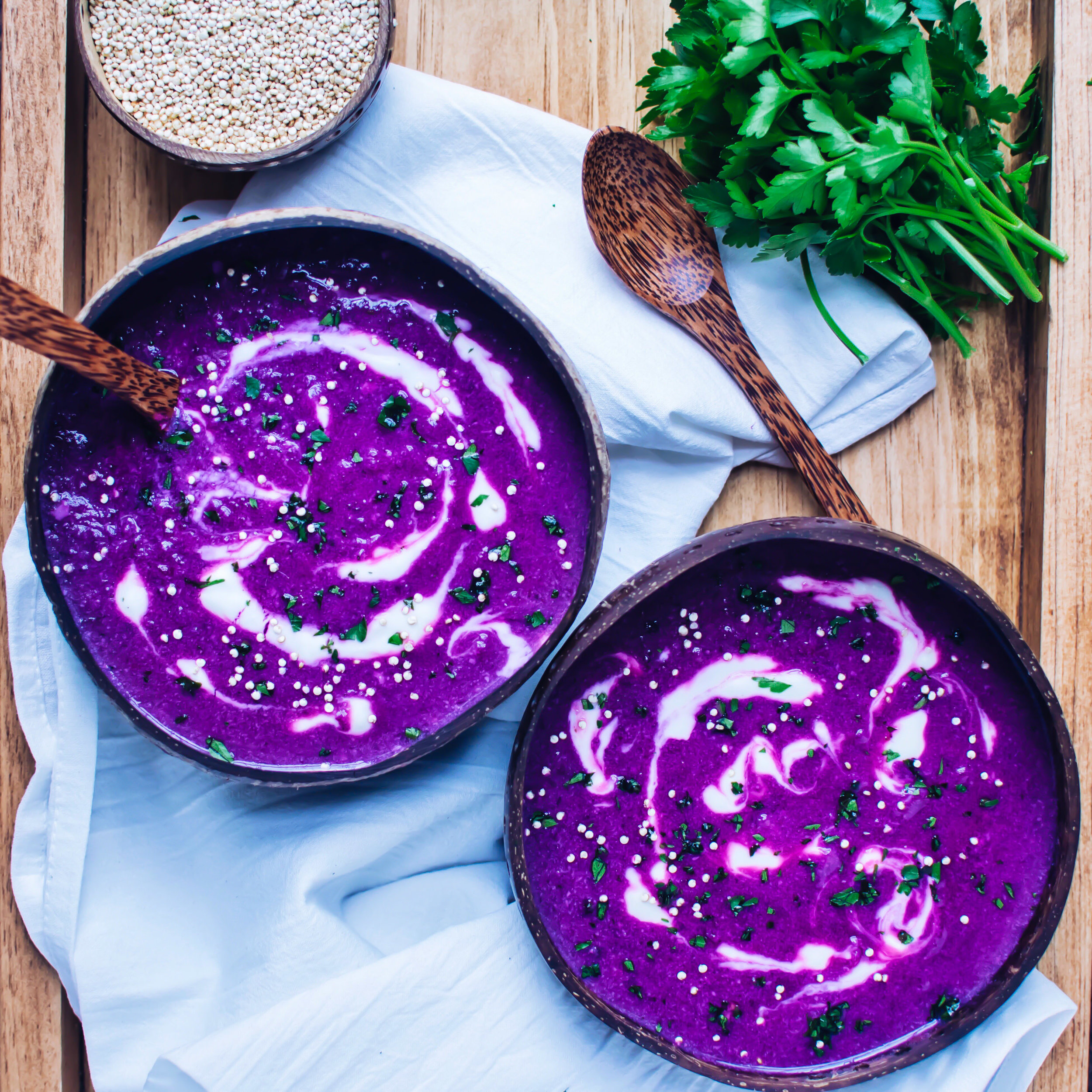 Roasted Purple Sweet Potato Soup
Serves 8
Ingredients
2 pounds of purple sweet potatoes, peeled
2 tablespoons avocado oil, olive oil, or coconut oil, divided
2 teaspoons dried thyme
Sea salt and black pepper to taste
2 red onions, sliced
3 cloves garlic, minced
1 Serrano or other chili pepper, minced
6 cups of vegetable broth
1 14-ounce package of organic silken tofu
Fresh parsley for garnish
Directions
Preheat the oven to 350 degrees F. Line a baking tray with parchment paper.
Chop the sweet potatoes into 1/2 inch pieces. Coat the potatoes with 1 1/2 tablespoons avocado/olive/coconut oil and toss with thyme and salt & pepper to taste until well coated.
Place potatoes on prepared baking tray and bake in preheated oven for approximately 30 minutes until tender and soft, flipping once halfway through.
While potatoes are roasting, heat the remaining 1/2 tablespoon of oil in a skillet over medium heat. Add the onions and salt and pepper to taste, stirring occasionally, until the onions are translucent, about 10 minutes. During the last few minutes of cooking, add the garlic and chili pepper. Remove from heat.
Heat the vegetable broth in a large Dutch oven until it is warm and steaming, but not boiling.
Meanwhile, drain the tofu and place in a food processor or high-speed blender. Add salt and pepper to taste. Blend until the tofu is thoroughly broken down and you have a thick, creamy texture.
Once the potatoes are done cooking, transfer the potatoes, onion mixture, and vegetable broth to a blender, working in batches. Place a kitchen towel over the center hole to allow steam to escape. Purée the soup until smooth. Continue with the remaining ingredients.
Once all of the soup is pureed, return it to the Dutch oven. Add in the pureed tofu, and stir. Check for seasonings. Let the soup simmer for 5-10 minutes.