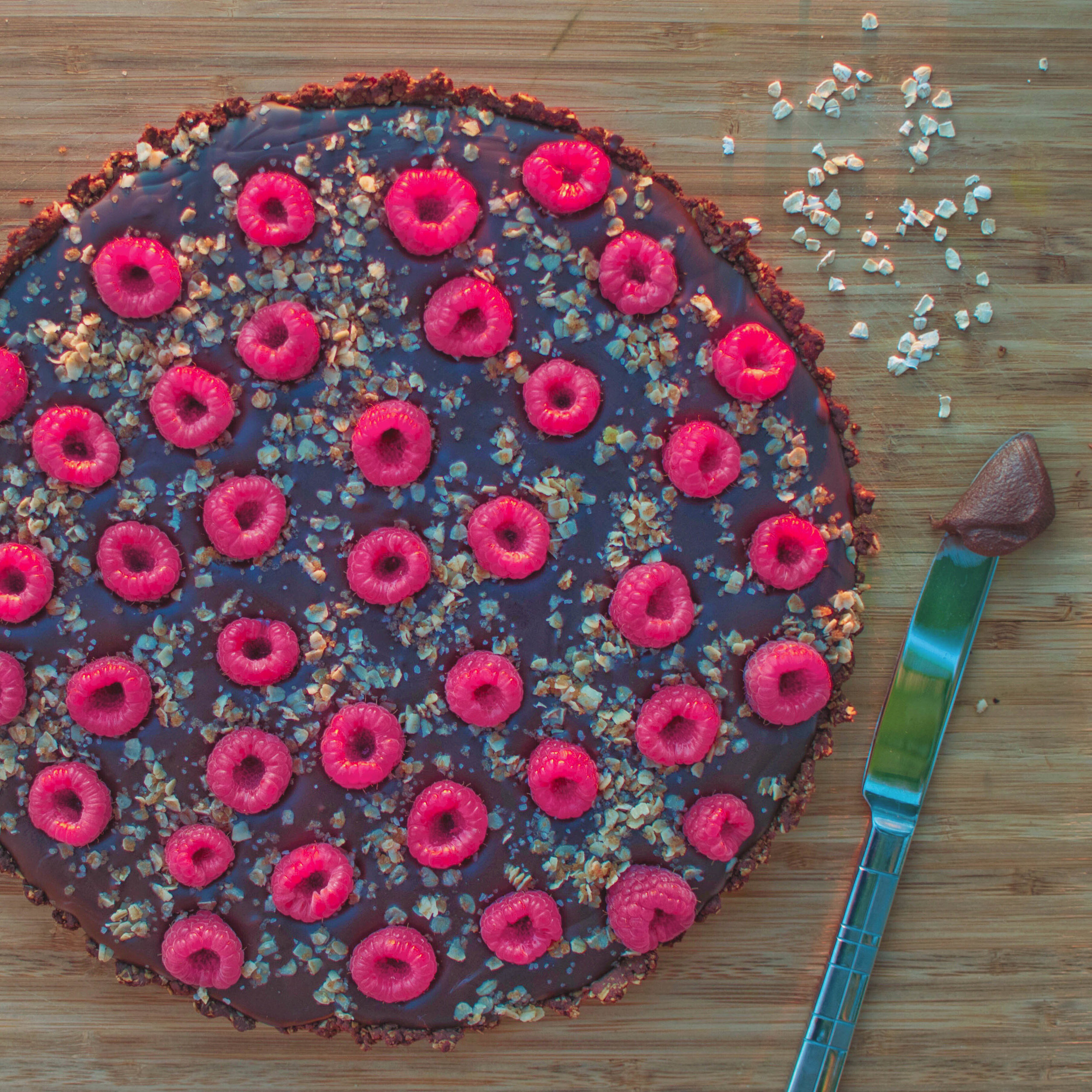 Salted Dark Chocolate Tart
Ingredients
Crust
6 soft Medjool dates, pitted
3/4 cup + 2 tablespoons almond flour
1 1/2 cups gluten-free rolled oats
2 1/2 tablespoons raw cacao powder (or cocoa powder)
1 teaspoon kosher salt
3/4 teaspoon cinnamon
1/8 teaspoon ground nutmeg
6 tablespoons coconut oil, melted and at room temperature
Filling
1 teaspoon instant coffee granules
3/4 cup hot water
1 1/4 cup raw cacao powder
8 ounces vegan dark chocolate, melted and cooled
3/4 cup agave syrup
1/2 cup coconut oil, melted and at room temperature
1/3 cup canned coconut milk
2 teaspoons vanilla extract
3/4 teaspoon kosher salt
For garnish: flaky sea salt and fresh raspberries
Directions
Crust
Preheat the oven to 325°F. Soak the dates in hot water for 10 minutes (omit this step if you have a high-powered food processor).
In a food processor, pulse all crust ingredients until you have a slightly sticky dough that comes together when you press it between your fingers.
Press the dough along the bottom and up the sides of a 10-inch removable bottom tart pan. Bake for 15-20, until the crust is lightly browned and firm. Remove to a wire rack to cool.
Filling
Combine the coffee granules and hot water in small bowl. Mix and let dissolve.
Wipe out the food processor. Add the coffee mixture and the remaining ingredients (cacao powder through kosher salt). Blend for 1 minute or until ingredients are thoroughly combined and you have a smooth, creamy texture.
Pour the filling into the cooled tart and smooth with a spatula.
Sprinkle flaky sea salt over tart and decorate with raspberries. Refrigerate for at least 2 hours. Let come to room temperature (approximately 20 minutes) before serving.